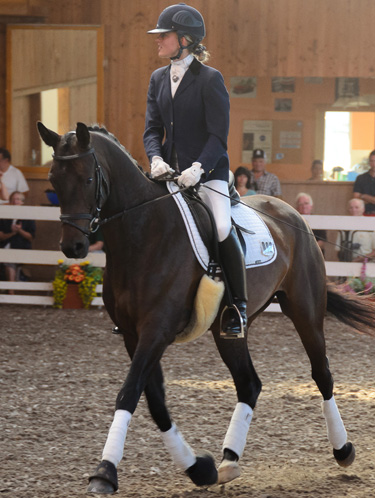 Samur is in the middle of growing at the moment. He still needs a little time to fill his frame. However he is a lightfooted big mover with a lot of energy in his hindleg, and always with a forward going upwards tendence. He will be a very interesting Dressage prospect, with his three very good gaits.
Samur is a very comfortable ride. He is willing to cooperate even when going through exciting new experiences. He just stays cool and does his job.
His very interesting pedigree speaks for itself:
Sire is E.H. Hibiskus, who is making a big name as the sire of good natured very talented riding horses.
Dam: Synkope II by Lehndorff's who sired many well tempered rideable horses. Synkopes dam Stradelle was also the dam of E.H. Sixtus. Sixtus not only jumped internationally himself, but also had big influence on bringing an energetic hindleg, and active movement into the Trakehner population.